The Ann Liguori Foundation thanks our sponsors and donors for their generosity and commitment to the 2020 ALF Charity Golf Classic: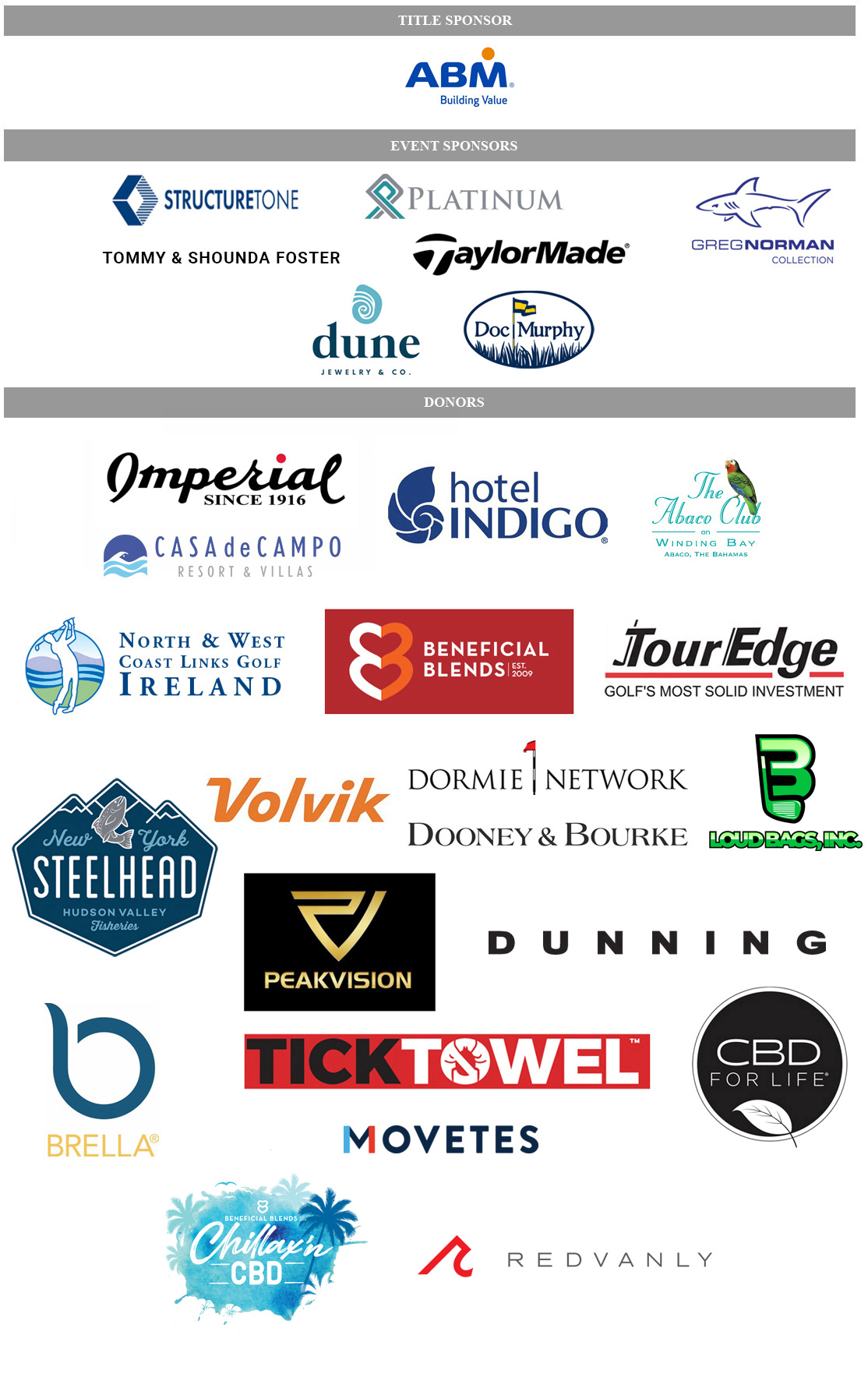 2020 Photos
2019 Photos
Photos by Daniel Gonzales
2019 Press
2018 Photos
Photos by Daniel Gonzales
2018 Press
2017 Photos
Photos by Daniel Gonzales
2017 Press
MEDIA ADVISORY
18th Annual Ann Liguori Foundation Charity Golf Classic Glistened at Friar's Head & Was Huge Success!
(Westhampton, NY – May 26, 2016) – The 2016 Ann Liguori Foundation Charity Golf Classic held at Friar's Head on the East End of Long Island, this past Monday, May 23rd, was the most successful event yet in its 18-year run.
Under glorious sunshine and clear skies, the Ben Crenshaw-Bill Coore design glistened and hosted the sold-out charity tournament for the third straight year.
The annual outing benefits a number of organizations that work in the field of cancer prevention and research including the American Cancer Society, St. Jude Children's Research Hospital, cancer research grants and Kids Need More, a camp for children with cancer and their siblings in August on Shelter Island.
Enthusiastic golfers gathered in the morning for a huge buffet breakfast in the breath-taking clubhouse which is situated on the bluffs of Baiting Hollow, overlooking the Long Island Sound. After warming up on the club's sprawling practice facility, they were off to enjoy a picture-perfect day on a picture-perfect course. Gene Michael of the NY Yankees and TV/Radio/Film personality Bo Dietl joined in the fun.
Ann Liguori, Golf Correspondent for CBS Sports Radio Network and WFAN, author and host of 'Sports Innerview with Ann Liguori' radio and cable series, has hosted and organized the charity golf tournament every year in The Hamptons since 1998. Eight years ago, Ann founded the Ann Liguori Foundation, which supports a variety of local, regional and national not-for-profit organizations each year.
"Every year, this charity golf tournament gets better and better, thanks to the special people who are committed to the event," says host Ann Liguori. "I thank the excellent team at Friar's Head, all of our devoted sponsors, donors, participants, volunteers and the golf industry, over-all, for all the support so many people provide for this event and for so many great causes, every year. The golf industry is most charitable and a testament to the special people who are involved in the game."
Each year, the Foundation recognizes an individual who excels in both the business world and the philanthropic arena. This year's honoree was Robert Catalano, President of Total Fire Protection, and the Founder of The Kids for Kids Foundation, which has raised nearly 6.7 million for St. Jude Children's Research Hospital.
This year's sponsors included Maui Jim Sunglasses, Platinum Maintenance, TaylorMade Adidas and Tharanco Lifestyles/Greg Norman Collection.
Nine teams won prizes for low gross and low net scores. Sandy Schoenbach of New Jersey had a hole-in- one on number 17!
Winners picked prizes from a selection of premium items donated by companies in the golf industry including Biion Golf Shoes, COOLA Suncare, Joann Dost's 'The Ultimate Round' Pebble Beach Golf Links, OGIO Golf Bags, RMS Golf Gloves, Ste. Michelle Wine Estates, Swing Lube, , Tour Edge Golf, VK Sport and Worth New York.
Auction items included golf trips to Ireland, donated by North and West Coast Links; Casa de Campo Resort & Villas, Dominican Republic; PGA National Resort & Spa, Palm Beach Gardens, Florida; Royal Isabela, Puerto Rico; Elbow Beach Resort & golf at Port Royal and Tuckers Point, Bermuda; table for eight at RAOS donated by Bo Dietl; opportunities to play Shinnecock, Sebonack, The Bridge, Winged Foot, tickets to HAMILTON, trip to Bali and more.
The evening program included Tournament Co-Chair, Len Gallo, urging the men in the audience to check themselves for lumps and get tested for testicular cancer. Melissa Firmes, the Founder of KIDS NEED MORE, shared her inspirational story. Firmes organizes camps for young people with cancer and raises money to support those in need. The Long-Island based Firmes is battling leukemia herself and despite her own life-threatening struggle, continues to devote her time and efforts to KIDS NEED MORE.
The charity golf classic has been played in the Hamptons every year since 1998 on such noted courses on the East End as Westhampton Country Club, Hampton Hills, Maidstone Golf Club, Sebonack Golf Club, The Bridge and Friar's Head.
###
For more information on Ann Liguori and the Ann Liguori Foundation, visit: www.annliguori.com. Follow Ann on Twitter: @annliguori
Like Ann on Facebook: www.facebook.com/annliguori
Media Contact:
Carole Imperiale, Publicist 908-380-0015 Carole.Imperiale@gmail.com
2016 Photos
Photos by Daniel Gonzales
2015 Ann Liguori Foundation Charity Golf Classic
2015 Photos
Photos by Tom Fitzgerald and Pam Deutchman
http://www.society-in-focus.com